A display problem? Use the online version..

You received this message because you are registered in the mailing list,
If you do not want to receive our messages anymore, please click on this link.

November 2012
| | |
| --- | --- |
| | The whole team of the International Relations of EPITA is happy to be back and present you this November edition! |

You will find some interesting news about our integration seminar that gathered about 231 3rd year students, 43 international students and more than 60 members of associations here to help on the organization.

After this event, especially for the international students, we organized a welcome week on campus to be sure they will start the academic year in the best conditions possible.
In October, EPITA opened her doors for future students and also welcomed lots of IT companies offering internship opportunities to our students.

We are also proud to announce that EPITA signed 2 new partnerships for our 2nd year students to study abroad.
We hope you have had a great month of October and that you enjoyed your Halloween Party as much as our students did!

All the best,

Christophe ROUVRAIS
Director Development & International Office


Célia Fernandez,
Exchange Programs
Coordinator



Anne Menard,
Executive Assistant






Marie Sempéré
International Officer



| | |
| --- | --- |
| Happening on campus | |
The 6th Forum of Associations of EPITA's Campus held Saturday, October 13, 2012


Under a tent of near 200 m2, the associations of the campus gathered in the form of a real trade show. Each of the 3,000 students of the campus had the opportunity to discover one of the 30 associations, going from stand to stand.


Sports

(motorsport, team and individual sports, air-soft, roller, paintball),

cultural and artistic associations

(international, photography, Japanimation, video editing, instrumental music, electronic music),

event and media associations

(web radio, Students' Union, event organizers, discovery cocktails),

humanitarian organizations and social openness

(sustainable development, organization of crops and donations of books),

technical associations

(MAC association, robotics French Cup (E = M6 Coupe), Conference on computer Science, computer national competition),

business and finance associations

,

games

(role playing games, poker games and e-sports network games, club & Magic Yu-Gi-Oh).

Those numerous events organized by the thirty on-campus associations maintain a warm atmosphere encourage students' personal growth. The diversity of associations and their dynamism remain an essential component of everyday student life and an essential part of various educational projects.


New agreements have been signed!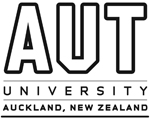 We are very happy to announce that we signed two new partnership agreements!

During the EAIE Conference last September, we had the opportunity to meet a representative from Auckland University of Technology (AUT), New Zealand. It was the occasion to pursue a conversation started a few months ago about a possible agreement and to sign a Study Abroad agreement .





Then, we signed an Erasmus agreement with the Politechnika Krakowska.
It gives us the possibility to offer new countries of destination to our undergraduate students going for a semester abroad and to fulfill their needs and wishes. Several of them will study in these two universities from January 2013!





| | |
| --- | --- |
| For the students / From the students | |
| | | |
| --- | --- | --- |
| | Integration Seminar | |

Every year, the "BDE" (Students' Union) organizes an integration seminar for our 3rd year students (1st year of the engineer cycle). It took place this year from the 30th of September to the 4th of October.
The students left by bus during the night of the 30th to go to the North West of France in the "Bretagne" region. The destination is kept secret from the students every year; this is one of the traditions of this seminar.

During the first 3 days, many different activities were offered to the students: pool with slides, quad bike tours, paintball, football and basketball games, aerial runways, etc.
The goal of this seminar is to allow the students to get to know each other better and also welcoming the new incomers (students that enter directly on our 3rd year and didn't follow our preparatory cycle). This year, one of the aims was also to interact with our international students as the new cohort of the International Masters arrived on the 28th. The students currently following their specialization period were also invited.

For the last 2 days, the administrative staff also joined the students: some workshops were organized in order to find out what the students expect from their 3 last years of studies at EPITA. They were able to ask any question they might have to the different services of EPITA: students associations, corporates and international relations, teaching staff and also our research labs (LRDE and 3IE).



| | | |
| --- | --- | --- |
| | New cohort of the International Masters! | |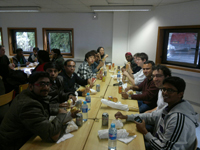 September 28th was our orientation day to the new students of the International Master's programs. 3.5 years after the very first session, we were happy to welcome 28 international students this fall.

For the very first time, EPITA has decided to invite them to the integration seminar. It was a real success! We have seen that students from the new cohort have mixed with our local students and also with the senior students of the International Master's programs.

They all enjoyed it and we are sure that they came back with their heads full of wonderful memories.

Then, several workshops were organized on EPITA campus in order to guide them for all administrative procedure: for social security, immigration process, housing contracts and insurance, bank, etc…

Now get to your keyboards! Courses have started!

| | |
| --- | --- |
| From the corporate world | |
FEMII: offer you the choice



The 15th edition of the Forum for Companies in the Engineering & IT Sector has been held on EPITA's Campus of the IONIS Group October 10 and 11, from 1.30 pm to 6 pm.

As every year, the companies from the engineering and IT sector met on the technological Campus from IONIS Group for the FEMII organized by EPITA. These influential actors from the sector presented their projects to recruit students and future engineers.



Wikispeed: the collaborative car that consumes 2.5 L per 100 kms



Friday, October 5th, at the invitation of the IONIS Group, students from EPITA, ESME Sudria and IPSA, were able to attend a lecture by Joe Justice, CEO of Wikispeed. In front of a packed house (over 200 attentive people in the audience) the founder of Wikispeed spoke. The keynote of Wikispeed is to develop an open source, secure and reliable car, able to travel 100 miles with only a gallon of gasoline (or 2.35 L per 100 km), and cheap ($ 25,000, with an ultimate goal of $ 17,000 per vehicle).


| | |
| --- | --- |
| Picture of the Month | |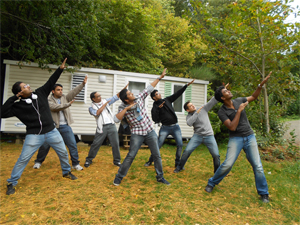 Some of our International students at the Integration Seminar
Parting thoughts
Halloween party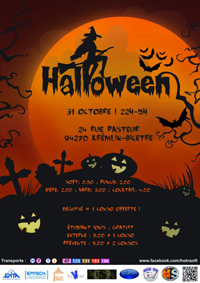 On October 31st, our "BDE" (students' union) organized like every year a big Halloween party. It was located in our basement and received more than 1,200 people! A free drink was offered to people with a costume.

This party was organized with the

"BDE" of 2 other schools (Epitech and IFSI)

.

EPITA Graduate School of Computer Science - 14-16 rue Voltaire - 94276 Le Kremlin-Bicêtre - France
www.epita.fr/masters/ - international@epita.fr - Tel: 01 80 51 71 37
Privately Endowed Graduate Educational Institution. Member of IONIS EDUCATION GROUP

Do not receive our messages anymore.