A display problem? Use the online version..

You received this message because you are registered in the mailing list,
If you do not want to receive our messages anymore, please click on this link.

January 2013
| | |
| --- | --- |
| | Our team is happy to announce the arrival of Mister Rabih Haddad. Rabih will be on board and in charge of the International Master's programs, please join me in welcoming him! |

Follow our news on Christmas celebrations for and from the students of EPITA.

In this issue you will have the chance to see some figures about the departure of our students in their abroad semester and read an interview conducted with Deepika Ragavane, one of the International Master Program's student. September 2013 promotion launched their Research & Innovation Projects and they are getting ready to fly solo and kick-off their internship!

The whole team of the International Relations of EPITA wishes you a Happy New Year!

All the best,

Christophe Rouvrais
Director Development & International Office


Célia Fernandez,
Exchange Programs
Coordinator



Anne Menard,
Executive Assistant






Marie Sempéré
International Officer



| | |
| --- | --- |
| Happening on campus | |
The Christmas celebration dinner:



On the 14th of December, students from all the different cohorts, professors and school administration celebrated Christmas around a dinner. We were around 250 people, sharing a great "tartiflette", typical French plates from the Alpine mountains, and some animations as: magicians, traditional Libyan dances, acrobatic dance demonstrations, and nice picture shoots groups with Christmas Father and Mother in the snow!


Profile of EPITA's students abroad in 2013!







| | |
| --- | --- |
| For the students / From the students | |
| | | |
| --- | --- | --- |
| | Arrival of a new staff member: Rabih Haddad | |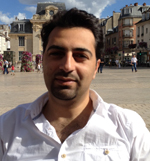 The whole Team of the International Relations is happy to announce the arrival of Mister Rabih Haddad, who will be in charge of the International Master's programs!
Rabih is one of the first students graduated from EPITA's International Masters in the Information Technology Management specialization.

We all wish him good luck in his new career!

| | | |
| --- | --- | --- |
| | The "X-MAS Party": | |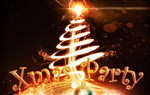 Every year, on the last week before Christmas Day, the students' union of the Ionis IIT Campus organizes a "X-MAS Party". This year, it will take place on the 21st of December, at the Bataclan, famous theatre in Paris. We are waiting around 1.500 students there, to celebrate Christmas all together before the Christmas holidays.

| | |
| --- | --- |
| From the corporate world | |
Interview of Deepika Ragavane – International Master's student (graduation year 2013)



It was my dream to pursue my studies in France in the field of Computer Science and Information Technology. EPITA met my expectations and wishes: the school is impressive and full of challenges. This is a good opportunity to apply my knowledge and learn new technologies. I am fortunate indeed to be trained by experienced teachers.
After my specialization period I was recruited by one of the largest companies in France to do my internship for a period of 6 months: Thales. It was an incredible experience for me. My internship experience will surely lead me into the real world of computing as a software engineer in the near future.
I look forward to becoming a project manager in a multinational company. I was born in Pondicherry, India. This is a splendid mix of Indian and French cultures. I lived in a multicultural environment that motivated me to develop my experience in the French culture.
For me, it is a challenge to study and work in an international environment. This is also an opportunity to know the culture, fantasy and French fashion, to enrich myself and expose myself to the world. This international experience has enabled me to realize my dream.


The Research & Innovation Projects of EPITA's International Master's program
a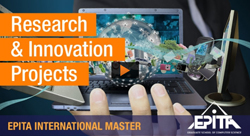 September 2013 promotion launched their Research & Innovation Projects and they are getting ready to fly solo and kick-off their internship!

Interesting topics are on campus now and in less than 2 months the students will deliver the "proof of concept" of the below:

• Auto-Adaptive System Control Platform
• EPITA International Master Students Digital Guide
• SFR Cloud Computing Qualification Tool



Recipe of the month
Christmas biscuits!
Crisp and buttery with a hint of cinnamon these delightful Christmas star biscuits won't be hanging on any Christmas trees for too long.
For more colourful decorations add a few drops of red or green food colouring to the icing and top with multi-coloured sprinkles. Use fine ribbon or silver string to thread through the holes. The iced stars will keep for 4-5 days in an airtight container.

• Makes: 30
• Prep time: 25 mins  (plus chilling)
• Cooking time: 10 mins
• Total time: 35 mins
• Skill level: Easy peasy
• Costs: Cheap

The unbaked dough will keep in the fridge for 2-3 days. Allow to soften at room temperature for 20-25 mins before rolling out.



Ingredients



• 50g butter, softened
• 75g caster sugar
• 1 medium egg yolk
• 100g plain flour, plus extra for dusting
• 1/2tsp ground cinnamon
• 100g icing sugar
• 1-2tbsp lemon juice
• Sugar sprinkles, to decorate

EPITA Graduate School of Computer Science - 14-16 rue Voltaire - 94276 Le Kremlin-Bicêtre - France
www.epita.fr/masters/ - international@epita.fr - Tel: 01 80 51 71 37
Privately Endowed Graduate Educational Institution. Member of IONIS EDUCATION GROUP

Do not receive our messages anymore.