A display problem? Use the online version..

You received this message because you are registered in the mailing list,
If you do not want to receive our messages anymore, please click on this link.

September 2012
| | |
| --- | --- |
| | After a little break during the national Summer holidays in France, the whole team of the International Relations of EPITA is happy to be back to present the September edition of the International Newsletter! |

You will find in this edition some exciting news about the travel of two EPITA's students from Paris to Helsinki by bike, and also some testimonial of one of our exchange student from South Korea, telling about his experience at EPITA.

In the meantime, the new cohort of the International Master's should be now in packing mode in order to arrive late September to begin the program. You will also find some interesting news about the freshly graduated students.

We hope that you will get the best from this September edition!

All the best,

Christophe ROUVRAIS
Director Development & International Office


Célia Fernandez,
Exchange Programs
Coordinator



Anne Menard,
Executive Assistant






Marie Sempéré
International Officer



| | |
| --- | --- |
| Happening on campus | |
Summer Schools: Ewha Womans University in Paris





We were very happy to welcome 18 students from South Korea during summer and we were glad to see that they enjoyed their stay with us. They learnt a lot, they had fun, and they discovered a new culture and a beautiful city: Paris! Three of them and their professor & guide, Philippe Meunier, answered a few questions.




Starting a new academic year!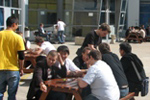 September rhymes with return to work! Are you ready to come on board? Our new cohort of International Masters will start smoothly with an orientation week. During this week, they will attend some workshops in order to be guided and supported in their administrative procedures (CAF, insurance, bank, etc). They will also participate to a 3 days induction seminar with our third year students! An occasion to meet local students and make new friends!




| | |
| --- | --- |
| For the students / From the students | |
| | | |
| --- | --- | --- |
| | The European Citizen's Initiative Fraternité 2020 (F2020) | |

EPITA's International team wants to encourage and congratulate Nicolas, an EPITA student, and his friend Louis from La Sorbonne University, for their brilliant initiative to cycle from Paris to Helsinki in order to promote European mobility. They want to spread an idea: that exchange programs such as Erasmus or European Voluntary Service (EUS) contribute to a better understanding and union between people from all over Europe, open the minds to intercultural differences and leads to more solidarity among citizens. If you want to follow their 600 km bike ride and learn more about their project, have a look at their Facebook Page and see website.

We are very proud of them!




| | | |
| --- | --- | --- |
| | Eunchang Lee, Exchange Student @ EPITA shares his experience with us | |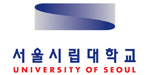 Euchang Lee, a student from University of Seoul, has come to EPITA last spring for an exchange semester. He has been interviewed at the end of the semester.
You want to know more about his experience?



| | |
| --- | --- |
| From the corporate world | |
Internship… And after?



While the Fall cohort of the class of 2013 has successfully secured exciting internship at companies such as Thalès, Dassault Systems or Silca one and a half month prior to the internship start, their Winter counterparts are currently concluding their internship semester and we are delighted to announce that 80% have secured a full time job offer in France itself. Furthermore, while 40% of our International Master alumni are employed nationally, the remainder has chosen to pursue their careers in countries such as Vietnam, Ecuador, Thailand or India.

Epiteans are strongly sought after and while Fall 2012 interns will earn an average of €1,250/month, which would cover 60% of the program tuition fees and is €150 up from Fall 2011, alumni hired full time in France average €37,000/year (without bonuses & other fringe benefits and €3,000 above average other Masters Programs graduates).

We are very proud and wish all of them good luck!


Webshell – Dataconnexions Contest Winner

Webshell is a project completed successfully by a team of 3 students from EPITA and a former student from INSA Lyon.

They won the first prize of the annual competition organized by the Ministry of Higher Education and Research in order to help innovative business start-ups.





| | |
| --- | --- |
| Picture of the Month | |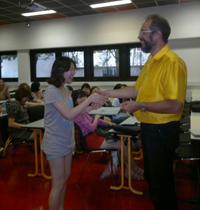 A student from Ewha receiving her certificate for the summer school program from the Managing Director, Joël Courtois
Parting thoughts
Ms. Albane Ariza, who has been actively involved in EPITA's International Relations for the last two years, has given up for personal reasons.  She was here to welcome the first cohorts of International Masters and she has provided with her global expertise a real impetus to the program. We wish her all the best in her new professional life.

For any question regarding International Master's program, the International team will continue to answer all your requests with the same attention!

E-mail: International.masters@epita.fr



EPITA Graduate School of Computer Science - 14-16 rue Voltaire - 94276 Le Kremlin-Bicêtre - France
www.epita.fr - international@epita.fr - Tel: 01 80 51 71 37
Privately Endowed Graduate Educational Institution. Member of IONIS EDUCATION GROUP

Do not receive our messages anymore.